BAREFOOT HALL of FAME
The Barefoot Sisters
Isis and Jackrabbit (Susan and Lucy Letcher) hiked the entire Appalachian Trail from Maine to Georgia--and BACK--in 2000 and 2001!! They completed almost all of the hike barefoot. Read about all their fun and adventures on this long adventure. Hiking the Appalachian Trail is an American experience and Isis and Jackrabbit have some incredible stories to share from their journey. Read The Adventures of the Barefoot Sisters, Book 1: Southbound, then complete the tale of the trail with Book 2: Walking Home. These books are a must-have for any barefooter, any traveler or hiker, and anyone who appreciates good stories of the American experience. (Links will take you to the Campmor website to purchase the books, per Susan's request).
Check out my tribute to the tough-soled pair who earned the nickname "The Barefoot Sisters."
Julia "Butterfly" Hill
JULIA "BUTTERFLY" HILL: This young lady is a barefooter extraordinaire with a compassionate and caring heart. She spent two years living in a California redwood in a crusade to protect California's last remaining old-growth redwood forest from destruction by Pacific Lumber, a powerful logging company known for extensive violations of environmental regulations. She always climbed barefoot in the tree, which she named Luna, even in the dead of winter, noting that she "has to have the connection." Her hike from Luna to a triumphant press conference at the end of her protest was also done bare-soled. Be sure to read her inspirational guide, "One Makes The Difference" (available from the Circle of Life Foundation, March 2002)

Barefoot Poster Girl Kelly Larsen
Kelly has been featured in various newspapers in her home state of Wisconsin and beyond for her nearly 100% barefoot lifestyle. Kelly is particularly proud of her well-adapted soles that can handle cold and snow as well as sharp objects without damage. Kelly does a lot of walking and biking--all barefoot. She has done a great job spreading the word about barefooting with lots of positive publicity. Below are links to online versions of some of the newspaper articles featuring Kelly.
Solebaring: An excellent article (no longer available) by Richard Chin from the 04/14/2002 St. Paul (MN) Pioneer Press featuring Kelly and other SBL members which was picked up on the newswire and reprinted in numerous newspapers nationwide. Kelly was featured prominently in accompanying photos.
Bare Comforts I: from the 06/02/2002 Eau Claire (WI) Leader Telegram
Bare Comforts II: from the 06/02/2002 Eau Claire (WI) Leader Telegram
BAREFOOT RELATED ORGANIZATIONS WORLDWIDE
The Society for Barefoot Living: The SBL was just about the first barefoot lifestyle group on the web (before the web even much existed) and continues to be the primary organization for people who choose to go barefoot just about everywhere as a lifestyle choice with over 1100 members worldwide. The group's Yahoo! mailing list membership is carefully screened to protect members from unwanted contacts and the list's posts are moderated to provide a haven from the SPAM and inappropriate content that many other more-open groups fall prey to. The website contains a wealth of information on the health and safety of barefooting, along with proof that it is neither illegal to drive barefoot nor to enter any business establishment barefoot.
Parents for Barefoot Children: An excellent site exploring the benefits of letting children remain as barefoot as possible for proper foot development. Contains extensive information from noted doctors and podiatrists. Also features a large section about going "Barefoot to School," reporting on places past and present where children can go barefoot to school.
Barefoot in Canada: Website of Canadian SBL member Barefoot Moe, this site features an explanation of the health and benefits of barefooting, photo gallery, tips for beginners, tips for winter barefooting and much more.
Quebec Pieds Nus: Quebec barefooters link, a community from Quebec who practice barefooting. NOTE: In French.
PEDOL: "People Ending Discrimination on Looks"--a discussion group for people fighting discrimination based on a wide variety of appearance-related issues, especially the choice to go barefoot. Also focuses on dress code issues in schools.
Club Dei Nati Scalzi: An organization for barefooters in Italy. N.B. Site is in Italian.
THINGS TO DO BAREFOOT
willPower & Grace Barefoot Workout: Some gyms can be very anti-barefoot if you're not doing yoga and pilates. However, at least one group of trainers recognizes the benefits of barefoot training. Willpower Productions, with their program willPower & grace™, offers barefoot workouts in locations throughout the USA. Founder Stacey Lei Krauss explains, "By insulating the sole of the foot from the ground, our feet lose some of their sensory feedback. This feedback should activate certain muscles that dissipate shock. By DEPENDING on our shoes to cushion our feet from impact, we've lost some of our foot's natural function." So, join Stacey or one of her barefoot trainers and get that functionality back. Check out their promotional flyer (PDF) for more info, too.
Barefoot Contessa Photo Adventure Tours: Explore your world and the wild places -- free of shoes. The Barefoot Contessa has years of experience exploring the world and being a guide and photographer. She's also an experienced barefooter and a great web designer who provided some graphics for this site.
Barefoot Parks (Barfussparks): Growing in popularity in Germany, these nature trails--and even resorts--are specifically designed with a wide variety of ground textures for the feet to experience. These sites are in German, but an English version can be found here.
Barefoot Farming: Check out The Barefoot Farmer, an organic farmer in Tennessee who believes in organic footwear as well. The site contains a lot of useful information about organic farming, so check it out....who wants to be walking barefoot in pesticides?
Running Barefoot: Safe and natural. From the early Olympics to Zola Budd and more. Check out the excellent site by CA barefoot marathon runner, Ken Bob Saxton. Ken Bob has been a proponent of barefoot running for many years (long before "Barefoot Shoes" were in vogue) and is often featured in print and on television.
Barefoot Hiking: Safe, natural, and traditional. Feel the Earth beneath your soles. A comprehensive list of Barefoot Hiking chapters around the country with links to Richard Frazine's instructional tome The Barefoot Hiker.
Barefoot Freestyle Dances: Kick off your shoes and kick up your heels. Held in a variety of places nationwide.
BAREFOOT READINGS
The Society for Barefoot Living Blog: It provides a way for the group to communicate more effectively with the online public, sharing materials of interest to barefooters and non-barefooters alike, focusing on current barefoot-relevant topics in the media and beyond. It provides a way for the SBL to help promote barefoot living to the wider public and share our ideas (and hear public feedback) on topics of interest.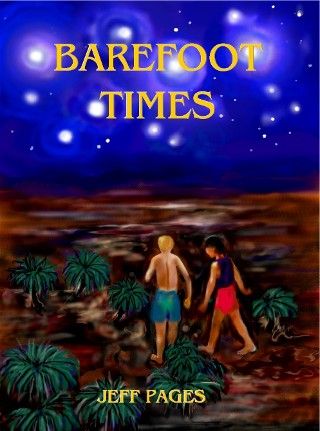 Barefoot Times and Call of the Delphinidae: These are two excellent science-fiction novels with a barefooting theme written by Australian SBL member Jeff Pages. Read stories of galactic adventure, prophecy and fulfillment in a universe where shoes are certainly not required. My Review: Barefooters Save the Universe! What a great and engaging sci-fi storyline. This book is quite a page-turner with sub-space travel in multiple dimensions/timelines, aliens, adventure, and a battle between good and evil. It's simply a must-read for barefooters or sci-fi fans, even moreso if you are a barefooter AND sci-fi fan. COMING SOON: Installment 3: The Mind of the Dolphins
Luzia Falkenberg, German Barefooter: A very interesting story of a German woman who has gone barefoot full-time for 20 years. Apologies for the rough Google translation to English from the original German version, which can be found here. Web searches turn up more info and stories about this woman, but most are in German.
Footloose and Fancy-Free: This is a photo feature on celebrities barefooting in public places. There is a good selection of celebs who seem to share our preference for free soles. However, the snide (and pretty much unwarranted and sometimes blatantly incorrect) comments in the captions show that we have a ways to go before public barefooting is accepted as it should be. See Also: Which Barefoot Wag?, a more up-to-date version of the story.
The Barefoot Seek Wiggle Room: The article that led to an explosion of press for the SBL. This New York Times article features the stories of a number of SBL members (Gordon Hlavenka, Bob Neinast, "Barefoot Mayor" Elliot Adams, and more) and their barefoot lifestyle.
Barefooting to Save The World: A well-written exploration of the reasons for being barefoot and the deeper meaning that freeing one's soles can have in our modern society, written by "Antera."
Barefoot And...: An article from the Seattle Times Pacific Northwest Magazine by Sara Jean Green about the things our feet reveal about ourselves and our lives.
City Barefooting Snapshot Poll: A USA Today Poll from 5/9/2000 telling us the percentage of people of different ages who "won't go barefoot in any city." The good news is more than 60% of any age group WOULD go barefoot in a city.
BAREFOOT FRIENDS ON THE WEB
Earthshod Alexandra (Tarot & Tea Leaf Readings): Alexandra is an accomplished, skilled, and gifted psychic and fortune-teller who lives a nearly 100% barefoot lifestyle. Surely her direct connection to the Earth aides in her readings. There are even articles on her site about the barefoot path she follows...
Barefoot Jeff in Australia: Jeff is also an SBL friend I've had the pleasure of meeting (when he visited the US a few years back). Jeff lives in the (relative) barefoot paradise of New South Wales, Australia, barefooting everywhere in the lovely natural environs and the nearby city of Sydney. He has also written a series of science fiction books with a barefooting theme (see Barefoot Readings above).
Barefoot Brittney: A friend and fellow SBL member from Tennessee. When this site was first put together in the late 1990s, Brittney was the true epitome of a full-time barefooter. Life circumstances led Brittney away from barefooting for a bit. However, I've recently gotten back in touch with her and she is re-expanding her barefooting to be the true barefoot Southern gal I remember.
Barefoot Becky (and the Ivanhoe Dutchmen): Becky is a lifelong barefooter in a polka band whose bare feet have become a trademark of the group.
Barefoot Connie Sue: Connie Sue is an experienced barefoot hiker in CO whose barefoot adventures on the trail (and the stunned reactions she receives) inspired a poem by her father. See Connie and read the poem. NOTE: I haven't heard from Connie Sue in years, but I leave this page on my website in tribute--it's a great poem celebrating the barefooter spirit.
Barefoot Myranya: Myranya is a long-time SBL member from the Netherlands who is almost 100% barefoot, even at work at the historical theme park Archeon. Don't miss Myranya's series of essays on barefooting, from "Bare feet, proper dress and respect" to "Why NSNSNS signs are wrong." (Pop-up Ad Warning on this site.)
BAREFOOT COMMUNITIES
This covers some online groups and bulletin boards about barefooting. It is not meant to be a comprehensive list, primarily just groups I belong to. However, if you have one to add, feel free to let me know. By the way, registration is required on the sites below, but it's simple and free.
Tribe.net Barefoot Walkers Tribe: This "Heath and Wellness" category tribe on the popular Tribe community website boasts almost 300 members since it's inception in late 2003 and urges people to "Walk barefoot for health and wisdom!" Posts run a wide range of topics from "Barefoot in Snow" to discussions of the legality of barefoot driving.
MySpace Barefoot in Public group: This group is led by Barefoot Jaime, a member of the Barefoot Hikers of PA, and boasts nearly 600 members since its creation in January 2006. MySpace caters to a younger crowd, so the discussions can be a bit more free-form, but a nice range of barefooting topics is covered, including things like "Your Barefoot Epiphany" and "Barefoot Shyness."
HipForums Bare It!: Hip Forums is a popular bulletin board service with forums covering a wide range of topics covering a variety of "Hippy" topics--"400+ Free Speech Forums" they proclaim, ranging from environmental activism to fashion to alternative lifestyles. The "Bare It!" forum has 2 subforums, covering naturism and barefooting respectively. The barefooting forums are very active with thousands of posts archived.