TRIP REPORT: Appalachian Trail Backpacking, July 12-18, 1998
Introduction
During the week of July 12 through July 18, 1998, a number of the members of the Barefoot Hikers of PA, joined by members of the Dirty Sole Society and other barefoot hiking groups, attempted a hike on the Appalachian Trail from PenMar (on the PA-MD border) to Harper's Ferry, VA. Our trials were many and the trip proved difficult, even for well-conditioned feet. However, we DID SUCCEED!! Our bare soles survived, as have the bare feet of other AT hikers who completed most or all of the 2100 mile hike barefoot, notably the Barefoot Sisters, Isis and Jackrabbit.
Participants
Week-long (July 12-18): Marian Rosenberg and Christopher Roat
First Half (July 12-14): Pat Gruzenski, Richard Frazine, Beth Frazine (age 13), and Charlie Frazine (age 9)
Last Half (July 15-18): Don Weber, leader of the NC Barefoot Hikers
Day Hiker (July 18): William Shakely
Read All About It
DAY 1: Sunday, July 12, 1998: Introductions and Complications
Charlie, Beth, Richard, and I left my home in Philadelphia happily barefoot around 7:15 AM. After a three-and-a-half hour drive slightly complicated by faulty directions provided by an Internet direction-finder service, we arrived in PenMar at 11:15 AM. Upon arrival at the park, we saw two other pairs of bare soles--one set belonging to Marian, the trip organizer, and another to Pat whose deep and lovely bronze tan gave witness to her recent lengthy stay in Florida. After our introductions on the warm and steamy asphalt parking lot, we retired to cool grass and dirt beneath a grove of trees and sat at a picnic table. There, Marian's father, a former scoutleader, helped to sort out the mostly-overpacked backpacks of our inexperienced group. Then, we divided the food which Marian had purchased among our packs. We chatted pleasantly, enjoying the scenery of the crowded park and cool shade of the trees. At Pat's request, we all used an ink pad to place our footprints on her shirt (a GREAT idea for a souvenir). We waited until around 1 PM, expecting Ron, another barefooter, to arrive. He did not, and we set out down the trail to meet the great Appalachian Trail--six barefoot hikers strong (Marian, Pat, Richard, Beth, Charlie, and myself).
The first portion of trail was level terrain and mostly free of rocks. Cool dirt and twigs gave way beneath our bare soles. However, the trail's proximity to civilization was sadly evidenced by a high quantity of broken glass littered about. Pat and I stepped gingerly at first, concerned by the glass. However, we soon realized, mostly by watching Marian and Richard's children, that the small glass shards in the soft dirt posed little real risk to our thickened feet. We began to enjoy the walk. Charlie continually rushed ahead, using his net to catch moths, salamanders, and any other hapless wildlife that he saw. He then examined his catch and identified it--quite the naturalist!! Unfortunately, Beth soon realized that her pack did not fit properly. Even on smooth terrain, the discomfort of an ill-fitting 30 lb. pack proved quite bothersome. Eventually, Marian and Beth traded packs, which slightly aided Beth.
After some relaxing time on this easy trail, we came to the aptly named Devil's Racecourse. Devil's Racecourse is a steep uphill climb (500 feet or more in a mile and a half) across rocky terrain composed mostly of boulders of various shapes and sizes. On the larger, smooth-faced boulders warmed by the afternoon sun, our bare soles proved quite useful to provide grip and traction. However, in areas where smaller boulders jut from the dirt at wild angles, great care was required to avoid injury. A boulder impact on the arch of the foot is quite an uncomfortable feeling, as we all soon learned. The steep ascent soon proved to the group that none of us was in great shape. Beth had the worst time of all, as her oversized and unbalanced pack contributed harshly to a natural fear of heights. Soon, she could go no further and sat on a rock, greatly upset and panicked. Marian and I, who, though by no means undaunted by the exertion, were proceeding with less difficulty than the others, proceeded to the summit and left our packs, returning to retrieve Beth's pack. After a second climb up the difficult mountain, we nearly collapsed. Marian had hyperventialted on the second climb as well. So, we sat with the reassembled group and had a quick snack.
We then continued on, thankfully on more level terrain, to the lookout point known as High Rocks. At High Rocks, we enjoyed a wonderful view of lush green farmland and forest below, with occasional farms and silos dotting the landscape, warm and inviting in the late-day sun. We spoke to a number of people who had driven to the lookout. We were all exhausted and it had taken nearly 6 hours to complete 2.5 miles of trail. With night soon to come, we were unsure if we could complete the other 2 miles to camp. Well, someone was looking out for us, though. By a great stroke of luck, a light blue VW bus appeared at the site. Emmett and Slinky, the bus's owners, agreed to give us a ride to the campsite--a form of cheating know to AT hikers as "slackpacking." We piled our gear and our tired bodies into the van, where the greasy floor felt cool beneath our feet, as well as contributing to our already "dirty soles." On the brief ride, we all stood and stuck our heads out the open roof, enjoying the wind whipping through our hair and savoring the coolness of the breeze. Emmett and Slinky dropped us off near nightfall at the side of the road which we expected to be very near the Devil's Racecourse shelter where we wanted to camp. However, after an hour of stumbling through thick undergrowth in growing darkness, we became quite dejected. Even with flashlights, the going was becoming treachorous. Still, our bare feet proved quite useful for feeling our way through and maintaining footing. Finally we found a clearing with a fire circle and decided to set up camp. After a brief encounter with a fireball, we realized that Marian's propane stove was malfunctioning. After a meal cooked over the fire we managed to start, we all went to sleep in our sleeping bags, dejected and exhausted but relieved that the killer day was finally over. We did have a great view of a clear, star-filled sky through the rounded clearing in the trees. Despite the day's exhausting adventures, the scene seemed peaceful and serene (at least to me).
DAY 2: Monday, July 13, 1998: Climbing, Climbing Into the Hot Sun
Richard was the first to awaken on Monday, just after sunrise. His explorations soon revealed that we were no more than 200 yards from the trail, though fallen trees had made it nearly impossible for us to realize the night before. We packed up camp and set out less than .25 miles to reach Devil's Racecourse Shelter. There, we met 2 other campers, who hadn't replied to our calls the night before because they thought we were local teens looking for a place to drink and party. We refilled our water supply in the nearby natural spring, built a fire, and had a wonderful breakfast of instant oatmeal. We entered our story of woe in the shelter's logbook which the Appalachian Trail Commission maintains for hikers to records their experiences in. Then, we headed out for the day's 5 mile hike to the Hemlock Hill Shelter.
The first few miles was nearly level terrain. The ground was composed of soft dirt and twig, though some sections had considerable rocky segments and one part was an extended boulder field with various shaped rocks sticking out at odd angles. Beth was having difficulty again. Her pack still did not fit right and the poor timing of a natural body cycle also complicated her effort. After crossing a road, we came to a flowing mountain creek. There we sat to enjoy the flow of the water and the cold water felt great as we soaked our tired feet. We had a lunch of peanut butter and jelly on pita bread before continuing. Charlie, still the naturalist, managed to catch a fish.
After lunch, we crossed MD Route 77 and came to an absolutely torturous section of trail. It was an uphill climb on a narrow trail littered with rocks of all shapes and sizes randomly sprinkled about on the trail--actually they WERE the trail. On both sides, the plant life swarmed in, threatening to overwhelm the already narrow trail. There was evidence that the growth had recently been trimmed, but this only meant cuttings on the ground of the trail--cuttings of sticker bushes. After encountering a few thorns (painful and annoying to remove, though not a serious threat of lasting injury to thick soles), Pat and I opted for sandals while the rest braved the thorns still bare. Amazingly, Charlie seemed unperturbed by the thorns--though he was tiring from his pack's weight and the general rockiness of the trail. Finally, we finished this section and came to the relief of a grassy field crossed by power lines. Pat and I removed our sandals again.
The relief was short-lived, as we soon realized that we faced a steep uphill climb in the open under 90-degree Fahrenheit sun. The angle of the slope must have been 70 degrees which continued straight up for a quarter mile. The rocks, mostly an inch or less in diameter, were loose and had a tendency to slide away down the mountain. Again, bare feet proved a safety advantage here. However, the hot sun, steep, steep climb and general fatigue nearly broke us all. At the top, we quickened our pace--finally on smooth long grass through which a path had been trampled. After a brief downhill, we saw the final torture of the day--a long (half mile) gravel road which we knew led right to camp. The gravel was medium-sized and sharp (the absolute worst kind) and covered the entire road. Pat and I again turned to sandals as the others struggled slowly across still bare.
We reached the Hemlock Hill Shelter, tired and hungry, around 7 PM. Since we had just crossed a road, we knew a town was nearby. We wondered if it would be possible to get pizza delivered. Pat used her cell phone and called the local pizza shop. However, either we were out of delivery range or the man on the phone, who spoke mostly Italian, didn't understand the question. Nonetheless, that wild and crazy hope for a REAL MEAL of pizza seemed lost until the wonderful Pat had another idea. She called her daughter Becky who lives a half-hour from our campsite and whose husband works for a local Little Caesar's! We placed our order and, about an hour later, Becky and her husband Mike arrived like Magi, bearing gifts of Pizza and Soda. The sight of Pizza! Pizza! bouyed our spirits and we ate like kings and queens, devouring the food and talking happily about our trials of the day. We owe a special, special thanks not only to Pat, but to her wonderful daughter and son-in-law, Becky and Mike!!! After a meal around the campfire, we retired to bed in the roofed shelter. We rested comfortably for another night under clear skies with very warm weather that didn't drop below 60 Fahrenheit all night.
DAY 3: Tuesday, July 14, 1998: An Unfortunate Injury
We all awoke in a good mood Tuesday, our stomachs filled with pizza from the night before and knowing that less difficult terrain lay ahead. We had a wonderful breakfast of BisQuik blueberry pancakes. Marian again recorded our trials in the shelter's logbook. In the log, we complained about the lack of actual trail the previous day and took great pride in mentioning that we got pizza delivered to us while on the Applachian Trail. We packed up camp and started hiking around 11. Today's hike was to be 6 miles in length. The day's trail was much better than we had encountered previously. The ground was more level, without as many steep climbs and descents as the previous two days. Though still rocky in sections, we actually encountered some smooth sections of just dirt, twigs and leafy mulch which was springy enough to give way slightly beneath our feet. We even encountered a few sandy segments as we hiked on fire roads on a section of the trail passing through a state park. At first, Beth seemed to be having a much better day and had found her pace. She even was considering staying the entire week (Richard had recently discussed getting a ride back to his car from Pat who was planning to leave tonight anyway, as she had other plans later in the week). Marian and I (who by no means were specimens of physical fitness) managed to pace ahead of the group by about an hour and waited at a small campsite called Pogo for the group to catch up and eat lunch. We took the time to refill our water in another mountain spring and even washed up a bit and cooled our feet in the rushing stream of water.
When Richard, Pat, and the children arrived at Pogo, we faced bad news. It seems Beth had donned her Chinese slippers to manuever one of the rockier segments of trail and, as fate would have it, twisted an ankle. I quickly saw that the ankle was quite swollen. My recent first aid course reminded me that this was evidence of a serious sprain. We took the chemical icepack from my first aid kit and allowed Beth to soothe her injured ankle. Over lunch, we discussed our emergency plans, as it was evident that Beth could not continue the day's hike carrying a 30 lb. pack 4 more miles with a sprained ankle. Pat and I decided to continue the other 4 miles to the parking lot where she was to be picked up by her daughter. Marian and the Frazines would hike a 1.5 mile side trail to a road where Pat could pick them up in her jeep.
After a late- day lunch (it was already about 3:30 in the afternoon), we split up. Marian helped to soothe Beth with stories, jokes, song, and kind words on their painful 1.5 mile trek to the road. Though Pat and I had a much longer hike of 4 miles, it was quite pleasant. We had put on shoes to make better time in this emergency. However, it soon became clear that they wouldn't have been needed. Our 4 miles were the easiest section of trail yet. It was mostly even elevation across a ridge. The trail was soft, cool dirt with few twigs and rocks for most of the 4 miles. The trail, which had been so narrow that one person could barely squeeze by at points, was now wide enough for us to walk side by side. We made superb time--finally reaching the pace of 2 miles an hour which had greatly eluded us over the previous days. Pat and I even had time for a pleasant conversation. After a long even stretch, we came to a brief, rocky downhill. The folly of wearing sandals became evident as I slid while stepping on a smooth rockface and landed on my backside on the rock. After rocking back and forth to get up (as gravity can really be quite a struggle when wearing a 30 lb. pack), I continued on, only having injured my pride. Soon, we came to a grassy trail alongside I-70, passed under a highway overpass bridge and reached the parking lot where Pat met her daughter Becky. Pat drove to the end of the other road to meet the others. She ferried Marian back to the parking lot to meet me. We hugged and said our goodbyes to Pat, who then went to retrieve the tired and injured Frazines and drove them to their car for the long journey back to Connecticut. Pat was a saint the entire trip and we all owe her (and her daughter Becky) a DEEP debt of gratitude.
Marian and I took a brief hike of a quarter mile back to the Pine Knob Shelter (which was one of our two options for shelter that night, though not Marian's favorite). We arrived just as darkness fell. We had a brief chat with another hiker at the shelter whom we had encountered on the trail earlier in the day. We borrowed his stove and cooked a meal of Ramen noodle soup before retiring to bed. We were thankful that the Frazines had reached the end of their tiresome, trouble-filled trip, but were going to miss the larger group. Still, we looked forward to hiking at our own pace the following day.
DAY 4: Wednesday, July 15, 1998: Sightseeing and Dinner for Two
Marian and I awoke and had another quick oatmeal breakfast. We even saw a turtle on the path from the shelter to the spring. If only Charlie had still been there, he would've had a new pet. After filling our water bottles, we packed up and started hiking around 11 (again a late start). After crossing a pedestrian bridge across 1-70, we came to a nice level section of trail that passed through a few suburban areas, even a couple backyards. Mostly though, we were in a small forest with trails typical of a local park. Dirt, twigs, and mulch with various degrees of scattered rock paved the way. The mulch felt quite springy and was like a carpeted cushion beneath our feet, as were sections of cool green moss, which we encountered much more often on this day than in our previous days of hiking. We came to a brief but torturous climb (250 feet up a rocky trail in less than a quarter mile) which we completed huffing and puffing. At the top, we were treated to the Washington Monument historical site and a great lookout point over a vast valley from the monument itself. Of course, I took pictures, both of the view and of the monument itself. We even got a tourist to take a picture of the two of us posed in front of the monument. We then briefly descended on a wide trail thick with tiny (cm grade) but sharp gravel. Still, the gravel bed was thick enough that the gravel gave beneath our feet. In addition, I've never really had a problem with this type of gravel anyway. At the bottom, we had lunch in the park's picnic area, purchasing sodas from a vending machine and using the modern (READ: Running water and toilets that flush) restrooms. We also jettisoned some excess food and gear, giving some to a Boy Scout troop and throwing out the rest. The Scouts and their leader briefly teased Marian about bringing a "teddy bear" (actually a stuffed leopard) backpacking with her, as they saw it peeking from her pack. She weakly defended herself, pointing out its use as a pillow. Then we continued on, making good time on another easy section of trail--nearly pacing as fast as 2 MPH. On some rocky sections, Marian got far ahead of me, forcing me to don my sandals to make up time. Around 4:30, we crossed a grassy field road. It was nice to be walking on SMOOTH, warm, CIVILIZED asphalt for a change. Another quarter mile down the trail, we reached Dahlgren campground--our first opportunity for a shower since we started the hike on Sunday. We showered and cleaned up.
In our previous day's hike, we had heard that the restaurant that meets the trail at the road we had just crossed welcomes hikers, despite being quite fancy. So, we decided to give it a try. As we entered, we felt quite underdressed, as this was an elegant five-star dining restaurant (The Old South Mountain Inn in Boonsboro, MD). Nonetheless, the manager/host/maitre'd greeted us warmly and even seemed curious about how our hike was going. He did ask us to put shoes on. Tired and hungry (and ravenous at the opportunity for a good meal), we didn't argue. He led us to a quiet corner (obviously someplace where our tattered appearance wouldn't bother the "regular" clientele). Our waitress treated us kindly as well. Marian (under-age) drank only water, while I had Pepsi and a glass of chardonnay. We started with port wine cheese spread and crackers on the table, then each had a delicious salad with at least four kinds of lettuce, onion, tomato, peppers, etc. and a delicious parmesan peppercorn dressing. Warm dinner rolls were also served. I ordered a 12 ounce sirloin steak in terragon butter ($19) that was served to perfection with a delicious juicy buttered baked potato and a vegetable medley of squash, carrots, broccoli and other assorted veggies that I (not being much into vegetables) didn't recognize. Marian had a fettucine with broccoli which, in her words, "had perfectly steamed broccoli, sauteed mushrooms, and large chunks of red, yellow, and green bell peppers (along with spring onions, blackberries, and an unidentified garnish). Again to quote Marian's report, "Dessert was chocolate mousse with fresh whipped cream in a cup made of dark chocolate on a plate garnished with blackberries, strawberries, blueberries, and mint leaves. We left stuffed."
We returned to the Dahlgren campsite and sat outside Marian's tent, enjoying the cool grass and the cool breeze and letting our big meal digest. Soon, a barefoot backpacker entered from the opposite end of the camp. I pointed him out to Marian and she called out, "Don!" Indeed, it was Don, who had hiked the 17 miles from Harper's Ferry that day, well out-pacing our daily distance of 6 miles. We made our introductions and chatted. Marian and Don sung songs and exchanged backand foot massages, while I took the first peaceful time that we had had in the twilight hours to begin recording the week's events on paper. There were many lightning bugs flitting about in the grassy clearing that composed the campsite and they made a pretty sight against the deep blue night sky. We talked and relaxed a bit longer before retiring to our tents on yet another clear and unusually warm night. Marian was nice enough to share her tent with me and keep me from getting bitten by the many bugs in the grassy field. We slept well, buoyed with confidence by Don's report that the remaining distance was moderately easy.
DAY 5: Thursday, July 16, 1998: A New Hiker--An Easier Pace
We awoke to another beautiful and sunny day. After a late breakfast of graham crackers and peanut butter, we began our hike around 11 AM. First, Marian had to "create" a pair of shorts by demolishing the sweats she had worn the night before. We had 7 miles to hike today, but most of it was reported to be easy terrain. The first mile was moderately rocky with stretches of soft, uninterrupted dirt and leaves upon which we practically ran, making great time. We stopped on a side trail to the Rocky Run shelter where we relaxed on a log and took pictures. We crossed a field below humming high tension power lines (a bit creepy), stopping long enough to pick some just ripened blackberries. The second mile was a steep climb with some rocky segments up to Lamb's Knoll. On this portion of trail, I saw two deer no more than 100 yards ahead. I stopped to watch in awe, being careful to keep quiet. However, when I tried to "Shh" the others who had fallen behind, the deer took off, their white tails flashing off into the distance. On this stretch, Marian stubbed a toe badly and Don had to patch it up with duct tape for her. After passing the top of Lamb's Knoll, we stopped at another lookout point for a lunch of peanut butter, jelly, and pita bread. It was another great view, though partially obscured by haze, looking across a valley to another long mountain ridge.
After lunch, we hiked downhill again. We stayed close together, telling jokes and corny puns. The trail was very rocky and narrow at some points, with random rocks jutting from the dirt (the kind that really sting one's arch when stepped on incorrectly). Still, it was much easier than the trail of Sunday and Monday. Don and I then got ahead of a very-tired Marian on a trail of soft, cool dirt and sand. Still, we made good time--Don and I pacing at about 2 miles an hour with Marian 30 minutes behind. We arrived at Rocky Run shelter around 5 PM. Don and I gathered wood and started a fire. Then, we hiked another .4 miles to a state park where we cleaned up, got water, and purchased soda from a vending machine while Marian cooked dinner back at camp. When we returned, dinner was ready.
It was our first good campfire-cooked meal the whole week and tasted great, especially with soda to wash it down. We ate well before a roaring, healthy fire. We retreated into the large shelter when rain began to fall--the first rain of the week. We talked and watched the fire while Marian and Don traded massages. A lightning bug had also entered the shelter and was flying about, glowing brightly, seemingly in some sort of mating pattern. I teasedhim with my Indi-glo quartz watch light for a bit before he flew out of the shelter. We soon fell asleep, looking forward to our last (and easiest) full day of hiking.
DAY 6: Friday, July 17, 1998: Going Down by the Railroad
We awoke to another quick breakfast and headed out. The trail was the nicest yet--gently rolling hills with on a mountain ridge with no steep climbs. Even the terrain had settled back to a comfortable bed of dirt and mulchy leaves, a springy cushion beneath our feet. Don and I practically ran this stretch, doing over 2 miles an hour. Sadly, Marian fell back considerably, in great pain from chafed thighs which developed due to a poor choice of clothing. Still, by 3 PM, we all reached Weverton Cliff for lunch --the nicest view yet!! We gazed out below us where we saw more moutain peaks in the distance, a highway and railroad tracks directly below, another road with a hairpin curve snaking through a thick forest, and the Potomac and Shenandoah Rivers in the distance. We could even see some of the rooftops of Harper's Ferry. Of course, the view of the valley also reminded us of the steep descent which lay ahead.
After lunch, we began our steep descent (500 feet in 3/4 of a mile). The trail was very steep, though switchbacks eased the descent slightly. Still, the drop from one switchback to the next was frightening to look down at. Nonetheless, with the end in sight, we made good time. Near the bottom, we paused beneath a highway bridge (I-340). As cars repeatedly zipped over top of us, Don descended from the trail to fill our water supply in a creek. We crossed a road and went through a few backyards before reaching the final road which was between and parallel to the Potomac River, the C&O Canal, and CSX railroad tracks. After a quarter mile on the gravel road, we reached the crude Weverton Shelter---no more than a fire circle and a clearing with a trash can. However, it was close to a small beach on the Potomac where we enjoyed the sand and water briefly.
We had an eclectic dinner of beans, noodle soup, stove top stuffing and chocolate (basically finishing up the remaining food) and enjoyed another roaring fire. I was slightly bothered by a large number of bees who were swarming around my pack and myself due to the presence of strawberry jelly on both. Still, I escaped unstung and we chatted and sung songs around the campfire, disturbed at one point by headlights coming from the jeep of a park ranger who saw the fire and came to check on it. We then retired to our tents to sleep. This time I shared a tent with Don. We slept well, only slightly disturbed by the rumbling clickety-clack of freight trains and MARC trains on the nearby tracks.
DAY 7: Saturday, July 18, 1998: Harper's Ferry & Barefoot Friends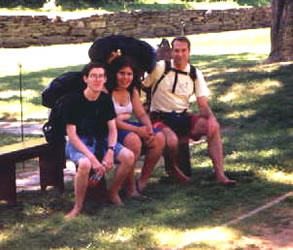 Marian, Don and I awoke early today (8:30 AM). We headed down to our little private beach and watched the sun rise over the Potomac, glistening off the water. We took pictures of some geese swimming past us. Then we returned to our campsite, started a fire, and had the remaining packets of oatmeal for breakfast (3 each). Don and I set out around 10:00 for the 2 mile hike to Harper's Ferry and Marian brought up the rear. The gravel on the road was not too big, but, after some time, it proved uncomfortable, thanks to the solid pavement beneath it. Meanwhile, Don and I had missed the side trail that led to a youth hostel where we had intended to shower and change into clean clothes for our day in Harper's Ferry. We came to another side trail below a bridge and followed it to the road. We had to climb a short hill of railroad gravel and cross the tracks to reach the road. Then, we doubled back uphill to the hostel on a paved, smooth asphalt road (not yet too hot) where we happily paid 2 dollars to shower and change into clean clothes. We made good time back down the road and into Harper's Ferry where we finally reunited with Marian who had actually stayed on the trail. After crossing a pedestrian bridge of smooth wooden planks, we entered Harper's Ferry, where large groups of tourists were listening to a park service guide in Civil War era costume. Soon, we spotted Bill.
After a brief rest on a bench below some trees, we hiked uphill on the main road of town to meet Marian's parents at the Hilltop House hotel. Let me tell you--when they say "Hilltop," they mean "HILLTOP!" It was quite a climb, especially on burning pavement and cobblestones. Still, we made it and there was another incredible view. We even got some other tourists to take our final group picture. Marian's parents arrived and we bid her farewell. Then, Don, Bill, and I stowed our gear in our cars and found a cafe for lunch. They had no problem with our bare feet. Of course, our waitress did ask "Where are your shoes?" but she said it in a pleasant playful manner. We told her the story of our AT hike and she was amazed. Don and Bill had club sandwiches and I had a cheeseburger which we thoroughly enjoyed in the air-conditioned comfort of the restaurant's dining area. Then, Don departed, leaving Bill and I to explore the town for the rest of the afternoon. We split up, as Bill prefers to check out the historic sites and joined a walking tour while I prefer to check out the shops. I had a great time wandering the shops, happily barefoot. I even entered one store (Top of the Towne) where I found a barefoot owner/operator. When I entered she saw my shirt and said, "Barefoot Hiker? Now that's a REAL man." Of course, with an invite like that, I HAD TO tell her about my recently completed AT hike. She seemed impressed and admitted she only puts shoes on for a few minutes each day. I told her about Barefoot Hikers and Bare feet OK! and offered to send her more info (I didn't have my stuff with me as it would've been more weight in my pack all week). So, we exchanged names and phone numbers. She even let me take her picture after I told her she was the only barefoot person I'd seen in town. She even showed off her bare feet by raising one leg. Soon, I reunited with Bill and we boarded a National Park Service bus to ride back to his car. After a stop at a gas station/mini market for supplies, Bill drove me home to Philadelphia.