TRIP REPORT: Delaware Canal State Park, October 2001
Statistics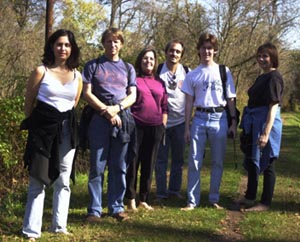 LOCATION: Delaware Canal State Park in Upper Black Eddy, eastern Bucks County, PA
TIME: 11 AM to 3 PM
CONDITIONS: Sunny and warm, temps in the upper 70s F (an outstanding fall day!)
PARTICIPANTS: Christopher Roat, Linda Lori and Valli of Preserve Our Past, Carla, Larry, Tim, and Francis
Read All About It
On Sunday, October 21, I met Linda Lori and Valli of Preserve Our Past for a hike on the last remaining natural earthen segment of the Delaware Canal towpath, a National Heritage Hiking Trail. We were joined by Francis, new to our group, but a seasoned barefoot hiker from upstate New York who has hiked with barefoot hikers in NY, CT, OH, Canada, etc. Tim, Carla, and Larry joined us for the first time. Larry kept his shoes on for the hike, but we won't hold that against him. ;-) We hope he'll free his soles and join us the next time.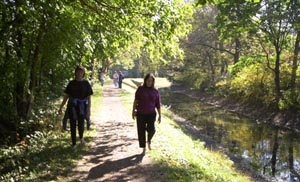 We were gifted with an incredibly beautiful fall day. A strong, bright sun shone down from the cloudless skies, warming the temperature to near 80 degrees and heightening the brilliant, vibrant gold, orange, and red tones of the changing leaves which populated the many trees along the canal on this late October day.
As we headed north from the park office along the winding river, we walked along a path of soft earth and ticklish green grass which was only occasionally interrupted by encroaching gravel and twigs to provide a variety of textures beneath our bare and awakened soles. The sun warmed the earth in dappled patches where it snuck past the golden leaves above. As we strolled along, we admired the beauty surrounding us and beneath our feet. Valli and Francis captured the scenery on film. Francis shared stories of his other barefoot hikes, and Tim told us of his recent explorations of barefooting and barefoot running. Valli and Linda shared information on the canal's history and its current troubles, while Carla and Larry pointed out some of the architectural treats provided by the historic houses along the way. As we passed beneath old wood bridges, the surface beneath us varied from soft, sandy soil to a springy cushion of already-fallen leaves.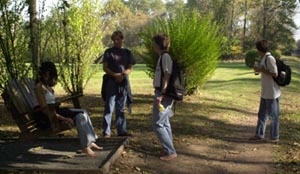 After about 2 miles which seemed much less, we came to another bridge over the canal. Stretching away from the bridge was a wide, grassy trail which led back toward the Delaware River itself, now obscured by distance. Carla and Larry were anxious to explore. Sadly, Linda and Valli needed to turn back, as they had other engagements to attend. We said our goodbyes and took a few group pictures before they headed back, their bare soles fading into the distance. The rest of us prepared to explore.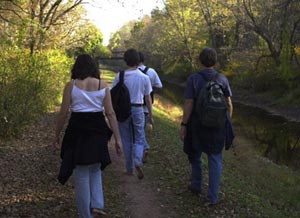 A short stretch of rough gravel past the bridge challenged our soles, especially for the tenderfoots, but we were soon pleased to feel a wide path of soft whisps of grass beneath our feet. Then, a short distance carefully tread through the undergrowth revealed a spectacular view of the meandering Delaware River, the hills on both sides of the wide water painted with auburn, gold, orange and yellow. We made our way to the riverbank which was covered with large boulders, polished smooth and round by the flowing waters. There we paused for a while to admire the view, catch our breath, and snack. Carla, Tim, and I waded briefly into the river which was already chilling with autumn's cold. Tim and Larry skipped smooth stones across the calm water, while Francis and I admired a fuzzy caterpillar who at first had startled me by brushing against my sole as I sat on a stone. As we continued, we followed a circular farm path of soft ticklish grass and spongy fallen leaves, which provided another spectacular river vista and the odd find of an abandoned outhouse before returning us to the bridge and canal towpath. Then we headed back the way we came. On the way back I noticed some of our bare footprints in the dust. We stopped at the general store in Bridgetown for refreshments. Our bare feet were no problem in the store, not surprising in a small-town, family-run business where two dalmations greeted the customers and begged for a bit of their food. ;-)
After the snack stop, we finished our way back the way we came, enjoying the grass and earth beneath our feet, and dodging occasional stones and roots on the path. As we made our way back to our starting point, the sun was setting lower in the sky and a cool breeze washed over our bodies and the tops of our feet. Arriving back at the parking area, we said our goodbyes and agreed that the hike had gone quite well.