TRIP REPORT: Tyler State Park, May 1998
Statistics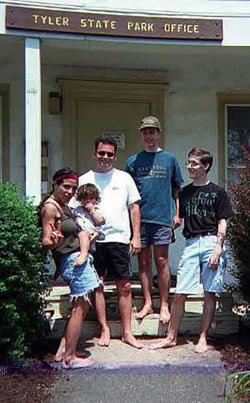 LOCATION: Tyler State Park in Newtown (Bucks County), PA
TIME: 11 AM to 2 PM
CONDITIONS: Warm and sunny, Temps in the 70s F
PARTICIPANTS: Christopher Roat, Bill S., Jaime T., Sarah, Maja, Lily, Christian B.
Read All About It
On Saturday morning, the Barefoot Hikers of PA traveled to Tyler State Park in Newtown, Bucks County, PA. Bright, sunny skies and temperatures which had already warmed into the high 70s by mid-morning greeted us. I drove to the park and waited at the designated meeting area. Soon, I was joined by fellow barefooters and DSS members Jaime Tepes and Bill Shakely. A few minutes later, a jeep pulled up and the occupants called out, "Barefoot Hikers?" We replied, "Yes," and were joined by two young ladies in their mid-20s, Maja and Sarah, who had responded to my advertisement in a local community newspaper. Both had shoes upon exiting the car, but quickly shed them. Sarah's young daughter Lily (less than 3 years old) also came along and Sarah didn't even bring shoes for her. While new to the group, the ladies had some experience hiking barefoot and often went barefoot. They said they were "born with tough feet." After a brief conversation standing in the parking lot near the park office (where the asphalt had already warmed to nearly uncomfortable levels), we took some pictures of our group, with our newcomers happily posing and cheering, "Barefooters Unite!" Sarah and Maja were both very enthusiastic about the group and listened intently as Bill, Jaime, and I discussed our barefooting in stores, etc.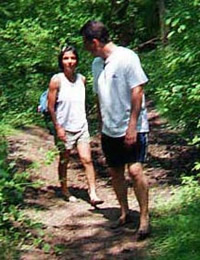 We hopped back into our cars and drove deeper into the park to get to the hiking trails. When we again parked, the asphalt that greeted our soles was both rough and extremely hot. Despite some discomfort, everyone survived unscathed as we crossed the parking lot, first reaching a grassy area and then a concrete bridge which crossed a large stream and led to the hiking trail. The concrete bridge, though warmed by the sun, felt much cooler to the soles than the vicious asphalt and was very smooth. After crossing the bridge, we again passed through cool, tall grass which tickled the soles. We reached a horse trail that paralleled the water and set out. The trail was mostly mud. In some areas, it was packed and smooth. At many spots, thanks to the 2 weeks of constant rain which ended only recently, the mud was very wet. At some spots, our feet slipped on the cool brown mud or sank into the mud up past our ankles. Soon, all our feet were coated with the gooey mud which oozed between our toes and caked up, creating a natural "earthen shoe." We continued on, facing only very occasional rocks and twigs beneath our feet within the mud. As we walked, we enjoyed the cool shade on the path while watching the sun beat down on the stream which paralleled our course. We examined the scenery around us and Maja, who works in a garden center, helped us to identify some of the local flora. Occasionally, there would be a splash into the stream as our approach scared a frog from the underbrush. Maja also helped us to identify some of the bird calls which happily whistled and tweeted through the canopy of trees above us. We also watched a number of people canoeing down the stream, enjoying the weather which had warmed even more, into the mid-80s (Fahrenheit).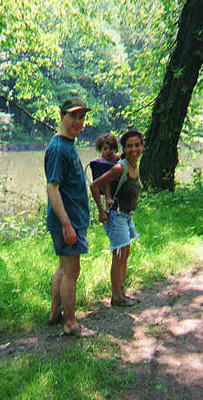 At one point, we had to wade across a smaller stream which split the trail. The very cool water was about a foot deep and our feet sank even deeper into the mud beneath it. This crossing proved someone difficult for the ladies, as they were taking turns carrying Lily in a backpack-type carrier. However, with some help, they crossed safely. We continued for about a half hour before turning back, following the same terrain. Sarah did pick up one thorn during the hike, but Maja removed it from her sole and no harm was done. On the return trip, we passed numerous other people, both on foot and on horseback. People gave a surprised reaction to our bare soles, but we felt happily vindicated watching them desperately and unsuccessfully try to keep from getting their shoes hopelessly muddy. We even saw some people work very hard to find another path around the little stream which cut through the trail so they wouldn't get wet. When we got back to the little concrete bridge/dam, we soaked our feet in the water to remove some of the thick mud which had accumulated. We posed for more pictures and began sunning ourselves on the large rocks by the water. We were joined by Christian Bradley, another veteran barefooter who unfortunately arrived late. Still, we stayed at the park and chatted for another hour or so before the ladies and Jaime parted company, promising to join us again soon. Bill, Christian and I took another brief hike on a nature trail of packed dirt with occasional rocks and small roots before leaving.